This 1941 cottage in Sonoma, California, was renovated by owner Lynn McCarthy with the help of the  Santa Rosa Tool Library,  a nonprofit lending library run by volunteers. The equipment can be borrowed free of charge for seven days.  She checked out everything she needed to update her cottage, including table saws, tiling trowels, soldering irons, levels and clamps. Most of the tools were either brand new or in excellent condition and would have cost Lynn a great deal of money to invest in all the tools she needed.  What a great resource!
Take a peek at this lovely home and for more information check here…enjoy!
The kitchen had to be "just right".  Lynn owns a catering and event business so the flow of the kitchen is really important.
Here's the Before Picture: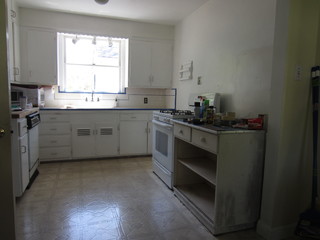 And now for the after…
Pretty much everything in the kitchen was redone.
"I searched for an island or counter, but I couldn't find anything, so I designed and built something myself," McCarthy says. The base is made from pallets, and the top is a piece of maple butcher block stained and cut to fit. Open shelving below lets light pass through to the breakfast nook."
This sweet little bar was made using an antique victrola case!  Lots of great touches in this cottage!
Nice warm and cozy colors in the living room!
The new dining room space used to be outdoor space but previous owners installed sliding glass doors and a roof to make it indoor space.
I really like this den area complete with comfy sofa and cool lounge chair!
The master bedroom!
The attached bath!